Best Plaques and Awards of 2015
Martin Awards
We want to give some shoutouts to some of our favorite Plaques and Awards from our 2015 line of products. While we are picking a small section for this post, we love all of our other plaques and awards just as much. We just think these should be mentioned for your pleasure of reading. All of these plaques can come with engraving and personalization. You can click any plaque and you will be taken to the product page to view more details about that particular plaque award.
---
Plaques and Awards – 3 mentions
MAP4185 – 7? x 9?
MAP4186 – 8? x 10-1/2?
MAP4187 – 9? x 12?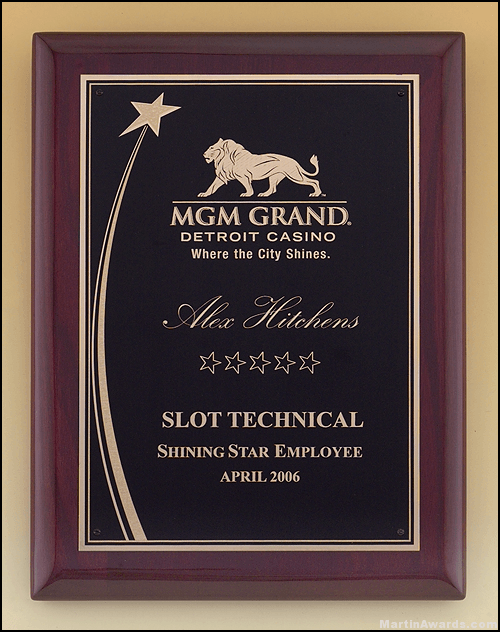 We loved this plaque because of the design! The shooting star artwork, added with an amazing logo really makes this plaque stand out! The shooting star makes it appear like the person being recognized has "no limit" or that the "sky's the limit" for their potential. It would make anyone feel important! And very possibly increase their productivity inturn.
Comes on a Rosewood stained wood, which is just gorgeous! Don't you think so too? And with that black laser-engravable plate, is just really stands out.
As shown in the product photo, You can add a logo, some beautiful text, and maybe even a rating clipart to capture the viewer's eye.
---
Let's start off by saying, who knew you'd be able to buy a log and turn it into a plaque? This truly a unique "one of a kind" plaque! It's because of it's uniqueness it has earned the #2 position for the Plaques and Awards of 2015!
We've already been selling these to events such as BBQ Cook-offs. The engraving you see above is completely lasered into the wood!
It really gives that "Rustic" feeling, kinda like you'd expect from a cabin in the mountains.
In fact, this would be a great plaque for cabin owners to put at the front door with a "Welcome to this Cabin" engraved, or even the rules for the cabin.
No two pieces are identical, since each one is individually cut. Made from actual LOGS (ELM). Also comes with Lacquer Coating.
Size is approximate – 9″
MAJWLP09D
---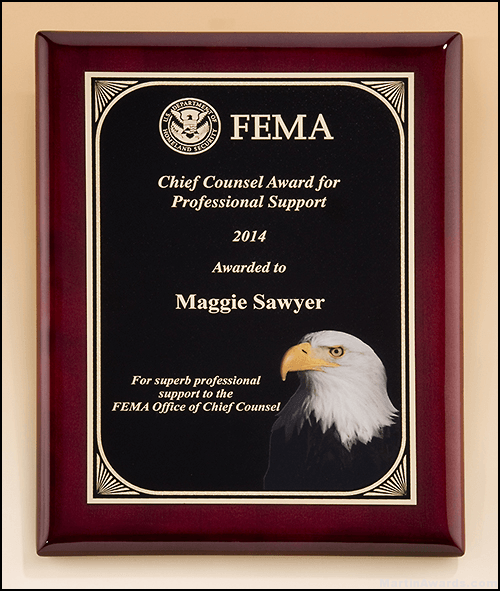 Truly, this is a great award to give with that "patriotic" touch. "Soaring above the bar" is what can be said from this plaque. This can be used to recognize an employee (as displayed in the photo.)
The Eagle is in crisp clear HD, giving the eye popping feeling. Along the corners are accents, giving it a pretty border line for the plate. Speaking of the plate, it is laser-engraved with your logo or text. The plaque comes in two sizes,
MAP5058 – 8? x 10?
MAP5059 – 9? x 12?
---
We hope you've enjoyed reading this list. We really think these plaques stand out from the others that we've added this year (2015)
Read our Tips on choosing corporate trophies article for more info.
We have a huge selection of Plaques and awards for you to browse and purchase from. If you have any question, free more than free to contact us with your question!
---
Martin Awards has been in the Recognition industry for over 26 years, starting in 1993.
We have the best A+ Rating with BBB since 2003!
We stand behind every single award we send out, offering only the best experience from our company!