Trophies & Engraving, Where to get it?
Martin Awards
The question customers ask us about trophies is Can you tell me more about your trophies & engraving? 
So we will explain that now
Trophies & Engraving
The trophy photos below are taken by Martin Awards, and may not be redistributed without prior permission.
---
First let's start off with this question..
What is a trophy with engraving?
When you think about a trophy you most likely see this image in your mind.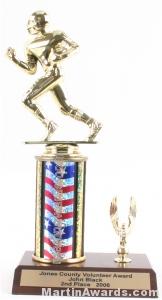 Mostly everyone else does too. Take notice of the imprint on the gold plate on the trophy base. This is where you put the engraving text for your trophy.
The definition of "trophy" in the way we want to use is "a symbol of success that is used to impress others:*1"
Trophies are mostly won by people who excel at something that is difficult for others to achieve.
We love to be a part of the recognition process, because it brings not only recognition to the customer, it also brings us pride seeing our customer with the trophy in their hands!
---
What different types of Trophies & Engraving do you have?
Here a selection of photos from our trophies & engraving product line.
The plate you see at the bottom of the trophies is where we put the engraving text.
Notice also how we have the traditional trophies & engraving (the left two), the golden statue trophy, and the soccer resin trophy. Trophies can come in a bunch of different styles and customizations. You can switch the trophy column out for a different color. You can remove the riser to make the trophy shorter. You can add or remove the eagles.
This is only a small selection of the trophies we offer. It's only to give you an idea what to look for on trophies you buy.
---
You can either Buy Custom Trophies or Stock Trophies
Custom trophies – Trophies where you need to personalize the engraving plate with text, logo, or any content; hence the term " Trophies & Engraving "
Stock trophies – Trophies that are pre-built and sent out without anything additional added to it. Does not come with any imprint on the plate.
---
How to tell if your trophy is cheaply made
After receiving your trophy, take a close look at the base. The wood base finish should have that "trophy glimar" you expect to see.
While observing the trophy base, make sure there aren't any scuffs or scratches. This is a huge issue with ordering from a company who doesn't take care and time when building the trophy. A company who "cuts corners" will easily miss these blemishes and not take care of them.
Check the trophy figure for any scratches or color chips.
Check the plate for scratches, bends, or dings
Ensure the spelling on the plate is correct
Martin Awards makes sure none of these issues are found in your trophy order.

It's our top priority to send your order out with care, and only the best experience from your awards company!
Sources:
*1. http://dictionary.reference.com/browse/trophy (#3)
---
Leave a comment below!
We'd like to hear your thoughts about trophies you've bought in the past.
Did you have a bad experience before? Or maybe you have some tips to add when a customer is purchasing a trophy?
You can leave it below in the comment section. You can leave comments on all of our blog articles.
We love feedback from our readers and can't wait to read yours!
---
Martin Awards has been in the Recognition industry for over 23 years, starting in 1993.
We have the best A+ Rating with BBB since 2003!
We stand behind every single award we send out, offering only the best experience from our company!