Order Corporate Awards from Martin Awards to show off that pride and appreciation your team or team member deserves! Don't see something here you're looking for? Don't worry! We have award specialists standing-by to chat about your corporate award idea! Just give that Live Chat button a click, or Contact us
If we can make you happy, we sure will try our best to make it happen! Use our Live chat support to speak to a trophy specialist and tell us your idea today!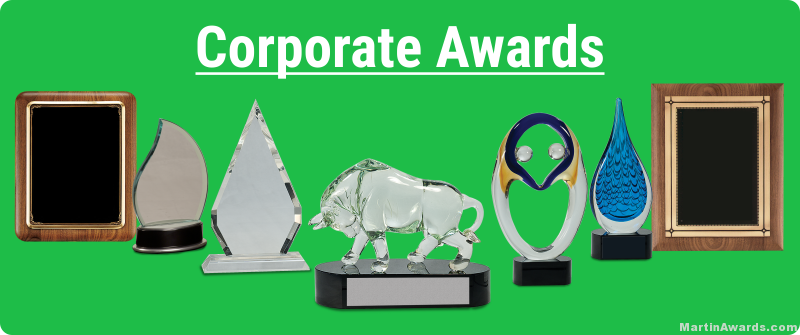 All of our Corporate Awards are Guaranteed by us!
Getting your order of Engraved Corporate Awards correct is a top priority to us! We make sure only top quality is found in your order. As we engraved each award one at a time, we watch closely for any marks, or imperfections to the engraved award before moving on. We do this because we stand behind our 100% Workmanship Guarantee to ensure you will receive the highest quality award we offer for your company.
Crystal Engraved Corporate Awards
Engraved Plaque Awards
Crystal Diamond on Clear Pedestal Base
Categories of Engraved Awards
---
Why buy your engraved corporate awards from Martin?
We truly believe in our work and the relationship we share with our customers. We give a 100% Workmanship Guarantee on all our custom awards! You don't have to worry about defects, scratches, or marks on your engraved  corporate awards when you order from us because we inspect every single one in the production stage of your order.
Order Process of our awards
We want to make ordering from us as easy and pleasant as possible!
Find the award(s) you'd like engraved and enter the engraving and personalized details for each of your awards.
Double check all your details on the cart page, then proceed to checkout. *TIP: If you need help during the order process, just give that "Live Chat" button a click, and we will help you instantly!
After placing your order, you will instantly receive an email confirmation. Within 1 business day, you will hear from us about your order and to confirm the details. After confirming the details for engraving and imprint are correct, we move to the next stage.
Production! We are now in production and engraving your awards, one at a time, and inspecting each one so they meet our strict standards.
You will hear back from us when it ships, and we will give you the shipping details via email.
---
Need help? Have a question? Maybe a unique idea for your award?
Give us a shout through the multiple contact methods we offer.
1) Live Chat with an Award Specialists
2) Call us and speak to a Representative
3) Email us 24/7
You can do all of these from our contact us page