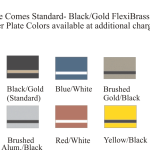 Florida State Shaped Plaque
Perfect for state organizations and state champions.
Comes standard with black and gold flexibrass plate.
Walnut Wood finish Plaque with Black edge. Other Plate colors are also available.
Perfect for expressing state pride.
MAS381 – 9-1/2″ x 11″
Description
Florida State Shaped Plaque
The Sunshine State
Florida state shaped plaque is uniquely shaped like the state of Florida.  Like Florida, well known for its warm, sunny climate, this plaque will bring warm receptions to your awards and recognition event. Different than the standard rectangle plaque, this award is cut in the distinct outline of Florida. Whether you're recognizing state departments or awarding the state ball champs, this plaque is sure to be a hit. Such a change from the normal plaques.
Since it is constructed of inexpensive materials, it will fit right into your budget. It is a walnut wood-look plaque with a black slanted edge. Rich look without the high price. 

You can even choose from a variety of colors for the plastic plate. 




 Why Buy a Florida State Shaped plaque?

Comes standard with black and gold flexibrass plate.
Walnut Wood finish Plaque with Black edge.
Other Plate colors also available.
Perfect for expressing state pride.

Size: 9-1/2″ x 11″